"Love yourself, king", and discover the new clothing line by Roberto Palazuelos
Actor Roberto Palazuelos is known for his appearances in telenovelas and reality shows on Mexican television; However, in recent years, his popularity on the internet has grown thanks to those who admire his luxurious life.
The memes about his lifestyle went viral on social networks and the so-called "Black Diamond" became the image of the privileged class of Mexico, something that the businessman took advantage of and used as inspiration for his new business.
Here we tell you all the details of Papi Palazuelos, the new clothing line by Roberto Palazuelos.
Also read: These are Bad Bunny's sneakers that sold out in minutes
(Photo: Instagram @robertopalazuelosbadeaux)
Since last year, Roberto Palazuelos announced the launch of his own clothing brand which is about to become a reality. His online store will offer caps, masks, shirts with or without sleeves, vests and bathrobes with the characteristic Black Diamond mirrey style, ideal for your next beach vacation.
Most of the garments are designed in neutral colors, such as white, black and gray; however, there are also caps with camouflage or rosewood patterns for those who prefer to stand out from the rest.
As for the options in the women's clothing line, crop tops with phrases such as "Princess is the shit" or "Love yourself, king" will be sold. The golden details are not lacking either, since you can see them in the brand's logo, in the letters or the illustrations that adorn each piece.
As if that were not enough, Papi Palazuelos not only offers clothing for adults but also has a line of t-shirts and caps for the smallest of the family.
Also read: Learn about the designs and prices of Lolita Ayala's shirts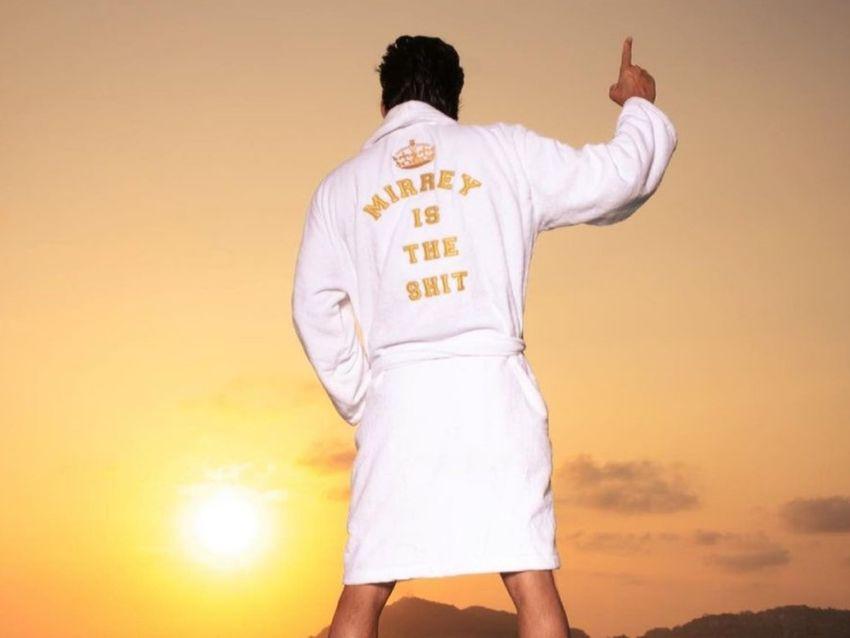 (Photo: Instagram @papipalazuelosbrand)
Other brand garments display phrases such as "Mirrey is the shit", "I am a good boy", "Not everything that glitters is gold, sometimes it is me", "Don't be a cat, daddy", "Mirrey in progress" , "While he gives you the plane, I'll give you a ride" and "Greetings from the top of success".
These words worthy of an authentic "mirrey" -as in some places young people fond of luxury are usually called- are accompanied by different figures; for example, a crown, a black diamond and even the face of the famous Mexican actor, who has gone viral on more than one occasion due to his ostentatious lifestyle.
But Roberto Palazuelos is not only the mind and inspiration behind this clothing line; he is also the model for his new brand clothing and accessories. In the photos of Papi Palazuelos Brand on Instagram, he is seen on the beach, sailing in the sea or posing in front of his plane while showing off his variety of hats, t-shirts and robes.
Also read: This is the favorite fashion brand of each country, which one is Mexico?
(Photo: Instagram @papipalazuelosbrand)
If you are concerned about caring for the environment, Papi Palazuelos ensures that his brand's packaging is 100% recyclable and biodegradable, so you can put together your mirrey look without guilt.
Although the launch of the clothing line is scheduled for April 16, the Papi Palazuelos brand already has more than 23 thousand followers on Instagram.
Keep up to date with their social networks for the opening of the online store and place your order through the page www.papipalazuelos.com.
Would you buy any of these clothes?
Tags:
how to mark my clothing line