C&A strips off clothes and puts a plant in its windows
C&A will join again this year the actions that are being undertaken at an international level within the framework of the World Day for the Reduction of CO2 Emissions, which is commemorated on January 28. Thus, the fashion firm will use its windows to give visibility to the environmental problem by removing its mannequins and placing a Spathiphyllum in its place. This plant, according to NASA, is one of the plants that best purifies the air and absorbs CO2: a short and direct message that emphasizes the brand's commitment to its carbon neutrality and awareness that small changes make a difference. The stores in Spain in which this action will be launched are those located in the Parquesur Shopping Center (Leganés), La Vaguada Shopping Center (Madrid) and Tetuán Street (Seville).
Wear The Change: projects dedicated to caring for the environment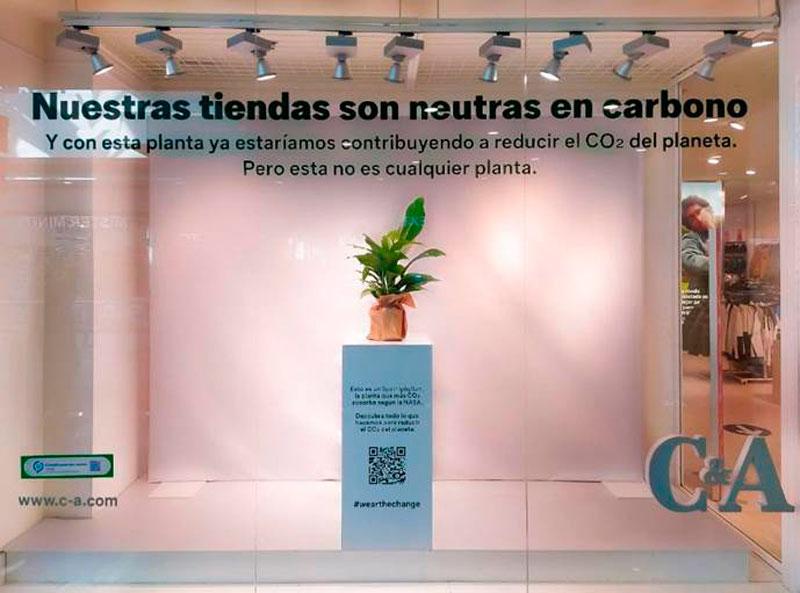 Under the claim "#Wearthechange", C&A has embarked on a series of projects to be more sustainable every day in the product field, by presenting more sustainable collections and supply chains, such as winter coats made with plastic bottles recycled or swimsuits made from reused materials. Recently, the brand also launched its Bosque C&A project in collaboration with Life Terra, a foundation whose mission is to restore people's connection to the Earth and enable immediate action that has an impact on the climate. Both rehabilitated deteriorated areas that were in urgent need of environmental restoration. In Spain, the C&A forest extends over approximately 2 hectares, allowing the reduction of more than 250 tons of CO2 emissions in the coming years.
In 2021 C&A announced the launch of its new Global Sustainability Strategy for its key markets of Europe, Brazil, Mexico and China. The objectives include obtaining 100% of the basic materials in a more sustainable way by 2028; undertake actions to encourage circularity and prolong the life of 7 out of 10 products by the year 2028; and replace 50% of single-use plastics in stores, the online store and the supply chain with sustainable alternatives by 2028.
Tags:
is nasa a clothing brand